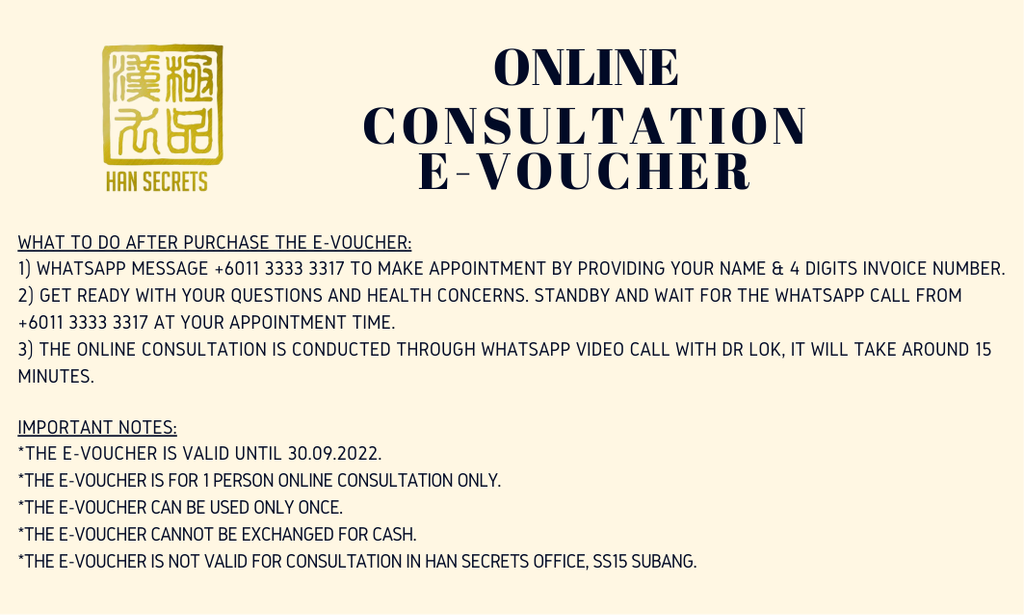 Online Consultation E-Voucher《線上問診券》
WHAT TO DO WITH THE E-VOUCHER:

1) WhatsApp message +6011 3333 3317 to make appointment by providing your name & 4 digits invoice number.

2) Get ready with your questions and health concerns. Standby and wait for the WhatsApp call from +6011 3333 3317 at your appointment time.

3) The online consultation is conducted through WhatsApp video call with Dr Lok, it will take around 15 minutes.

TERMS AND CONDITIONS:
*The e-voucher is valid until 30.09.2022.
*The e-voucher is for 1 person online consultation only.
*The e-voucher can be used only once.
*The e-voucher cannot be exchanged for cash.
購買線上看診券,預約程序:

1) WhatsApp +6011 3333 3317 ,提供您的姓名和 invoice號碼,以預約線上看診時間。

2) 準備好您的健康相關問題。您會在預約時間準時接到我們的Whatsapp 來電 +6011 3333 3317。

3) 線上看診是通過 WhatsApp Video Call 與 陸醫師進行視頻通話,大約 15 分鐘。

條款和條件:
*線上看診券有效期至 2022 年 9 月 30 日。
*線上看診券僅限1人在線諮詢。
*線上看診券只能使用一次。
*線上看診券不可兌換現金。