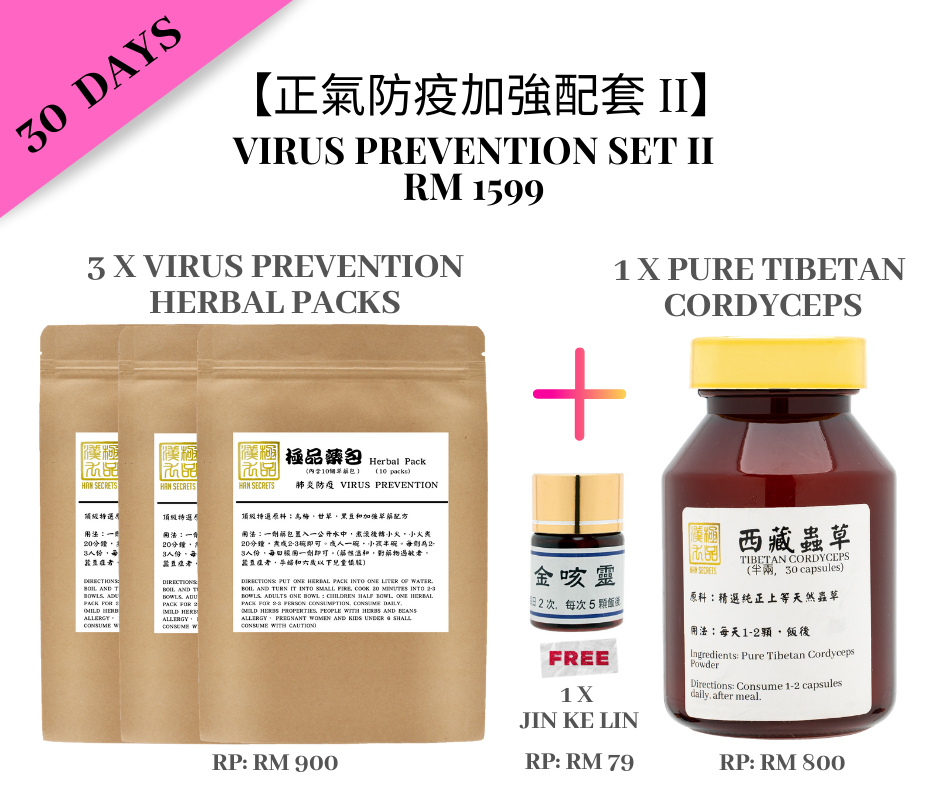 Virus Prevention Set II《正氣防疫加強配套 II》
在此時此刻,完整的固本培元,補中益氣配方,才是最佳抗病邪之首選。《黃帝內經》有云:正氣存內,邪不能侵。說的就是這個道理。
Virus Prevention Herbal Pack《肺炎防疫加强草藥包》
頂級特選:烏梅,甘草,黑豆和加強草藥配方
用法:一劑藥包置入一公升水中,煮滾後轉小火,小火煮20分鐘,煮成2-3碗即可。成人一碗,小孩半碗。每劑為2-3人份,每日服用一劑即可。
(藥性溫和,對藥物過敏者,蠶豆症者,孕婦和六歲以下兒童慎服)
Ingredients: Natural and high quality herbs.
Directions: Put one herbal pack into one liter of water, boil and turn it into small fire, cook 20 minutes into 2-3 bowls. Adults one bowl ; Children half bowl. one herbal pack for 2-3 person consumption. Consume daily.
(Mild herbs properties. People with herbs and beans allergy, pregnant women and kids under six shall consume with caution)
30 herbal packs (for 30 days)
Pure Tibetan Cordyceps 《西藏蟲草》
蟲草是一種傳統的名貴滋補中藥材,與天然人參、鹿茸並列為三大滋補品。它藥性溫和,一年四季均可食用,老、少、病、弱、虛者皆宜,比其他種類的滋補品有更廣泛的藥用價值,尤其以西藏地區所產的最為出色。

現代醫學認為:蟲草入肺腎二經,既能補肺陰,又能補腎陽,主治腎虛,陽痿遺精,腰膝酸痛,病後虛弱,久咳虛弱,勞咳痰血,自汗盜汗等,是唯一的一種能同時平衡、調節陰陽的中藥。總體來說,冬蟲夏草的保健作用是相當好的,在肺和腎臟器官方面的治療也療效顯著。
頂級特選:純西藏蟲草
用法:每天1-2顆,飯後
Ingredients: Pure Tibetan Cordyceps
Dosage: 1-2 capsules daily, after meal.
(Pregnant women and children reduce half intake. Those with heat and constipation shall consume with caution)
30 capsules (20g)